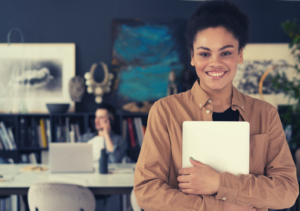 In September 2021, WiHTL hosted a webinar entitled 'Social Mobility: Creating a Level Playing Field for All'.The speakers were Rt Hon. Justine Greening, Founder of Social Mobility Pledge and former Minister for Women, Donna Catley, Chief People Officer Compass Group (UK&I), André Flemmings, Head of Diversity,Inclusion & Wellbeing at WHSmith and Tracey Groves, CEO Intelligent Ethics & Partner, StoneTurn.
You can watch the webinar recording on YouTube here. 
The wide-ranging panel discussion included defining what is meant by the term 'social mobility', if and how the pandemic can be a catalyst for change within the hospitality, travel and leisure (and other) industries, how companies can seize the social mobility opportunities that now present themselves, and how an organisation might measure its success and impact in driving change across the social mobility agenda.
The White Paper on Social Mobility, written by Tracey post the webinar panel, summarises the key points emerging from the discussion and aims to help organisations understand the topic in greater depth, by providing reference to current thought leadership, sharing of practical case studies and highlighting leading research in this area. 
The Report aims to inspire employers across the hospitality, travel and leisure and retail sectors to ensure there are equal opportunities for people from all socioeconomic backgrounds across all levels and roles. Upward mobility will take a continuous and collaborative effort and examples of policies and practices from within the industry will show a clear path to sustainable and progressive change in this area