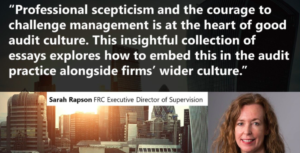 I am delighted to have contributed to a rich collection of insights and perspectives on 'Audit Firm Culture: Challenge. Trust. Transformation' curated by the Financial Reporting Council and published below. Academics, regulators, directors, audit firms and culture change experts have participated in this compilation of essays and it is a privilege to be invited to contribute. Access the collection here
My short essay in Chapter 2, entitled 'Dignity as an indicator of audit firm culture', focuses on the role of the audit committee in measuring and assessing culture and how, by hardwiring dignity into the heart of a firm's culture, high levels of integrity, trust and respect are nurtured and created. A key action for any audit committee is to embrace the role of dignity, defined as our inherent value and worth, as a transformational enabler of a high-performance culture and to recognise the long-term value creation of building trust and respect in the workplace.
My warm thanks to Donna Hicks for allowing me to reference her defining work on dignity, 'Leading with Dignity' (2018), and the adaptation of the Hicks Dignity Model.