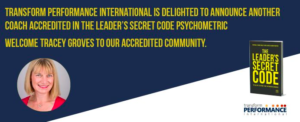 When I acted as MC at the London-based launch of The Leader's Secret Code (LSC) in December 2019 for Transform Performance International,  I knew this book, the authors, and the extensive research behind all of it, were something quite special.
Following on from the success of The Salesperson's Secret Code, The Leader's Secret Code presents a rigorous and extensive analysis of how highly effective leaders behave, think and why they do what they do.  A laser-like focus on what are the beliefs, attitudes and behaviours linked to being a top performing and influential leader is what makes this diagnostic quite different and special.
Already a Business Partner with Transform Performance, I am now also delighted to be accredited as a Coach in The Leader's Secret Code. This enables me to access and deploy the LSC psychometric tool and the deep database of research and analysis behind the Code with my clients and as part of my advisory work.
Read more about The Leader's Secret Code here.