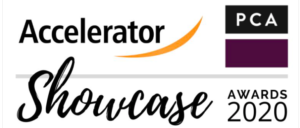 The joint Accelerator and PCA Showcase Awards 2020 are free to enter and have been created to recognise and celebrate innovation in service quality, employee wellbeing and leadership during the ongoing pandemic.
Open to any organisation in any sector or industry, the Showcase Awards provide an opportunity for companies to showcase their adaptability and demonstrate their success in delivering against the odds, both internally and externally, in these ambiguous times.
I'm delighted to be a judge for the Human-Centred Leadership category and take part in what promises to be a fantastic opportunity for businesses to step back and reflect on their incredible achievements, despite these challenging times.
https://www.acceleratorsolutions.com/client-showcase-awards-2020-register.php
Watch this short video to learn more about the three Award categories and how to apply: