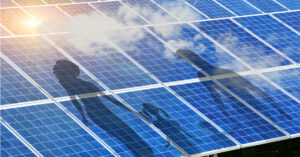 There is growing evidence that the coronavirus pandemic has accelerated the interest in environmental, social and governance (ESG) issues in recent months. ESG is again under the spotlight on the Davos 2021 agenda. It is at the centre of significant new policy reforms and substantial green commitments by political leaders around the world. The latest annual letter from Larry Fink, CEO of BlackRock, calls for companies to report their net zero-plans by 2050.
A golden thread running through all of this, connecting the critical issues across the ESG agenda, is the consistent drive for greater transparency and engagement with integrity. The shockwaves of #MeToo in 2019 and #BlackLivesMatter in 2020 are still reverberating in many boardrooms.  2021 will be no less challenging and unpredictable for business leaders.  What will be the next #shock? Individuals are driving movements and events which are demanding that all voices are heard, and that they matter.
A Global Mandate for Business 
Now is not the time for leaders to ignore or delay their commitment to ESG. If anything, the focus on ESG issues and the global mandate for transformation will only intensify as business recovery shows its early green shoots, post pandemic.  Many key stakeholders, ranging from customers, employees and investors, are now reassessing their values, who they are and what really matters. The global mandate for more transparency and engagement, that connects and binds us together in a shared purpose, has arguably never been greater.
Recent research tells us that while many investors and CEOs now take ESG seriously in their decision making, one powerful constituency is lagging: corporate boards [1]. Studies show many boards have little ESG-related expertise and many do not even recognise the need to pay attention to material sustainability issues. Yet, Critical Eye's NED 2021 Research, for the first time, reports ESG as the top priority for Boards.  Which is it to be?
Call for Action
What is one thing that leaders can do now to embrace the rise of ESG and unlock its potential power to connect and engage?  It is deceivingly simple. Leaders need to believe in it.
Beliefs shape behaviours and behaviours drive action [2]
What we believe shapes how we behave, and how we behave is what we become through our leadership actions.
A belief can be defined as an emotionally-held opinion which we assume to be fact. They may not be true, but they are true for us. For example: you may not believe in building sustainable supply chains that protect our habitat and environment. You may not believe that every employee deserves their dignity to be honoured, no matter who they are, what they do, or where they come from.  Or you may disbelieve that values and ethical standards have a role to play in conducting responsible business which benefit all stakeholders, over and above shareholders. These are all examples of inherent beliefs which will drive your behaviours and will show up in your actions as leaders.
We are grappling with many complex issues right now that cut straight across the ESG agenda. These are challenging the beliefs of leaders and the choices they make. Recent client cases include the level of leadership commitment to activate corporate purpose beyond words into action.  Another is the willingness of leaders to build and exercise ethical muscle, hardwiring it into corporate decision-making that increasingly involves moral dilemmas and trade-offs.  We need to believe and make choices about what is the right thing to do in each of these situations, and not just blindly do the next thing right, without challenging our beliefs or core values that we hold to be true.
ESG as a leadership belief
Our belief system and how it drives our leadership behaviours, and ultimately our actions, has to be a critical part of the business transformation that ESG is driving.
Is ESG increasingly moving from the wings on to the main stage? Arguably, it has always been on the main stage – it may be that we are just starting to believe in it a bit more.  Even before the pandemic struck, the ESG movement was gaining momentum.  What is true, however, is that ESG gets to the very centre of why you exist as a business and what you stand for, your impact on the world at large, and how you engage and meet the needs of all of your stakeholders, across wider society and beyond.
Do you believe in it?
[1] https://hbr.org/2021/01/boards-are-obstructing-esg-at-their-own-peril Accessed 28 January 2021
[2] https://lsc.transformperformance.com/intro The Leader's Secret Code. Accessed 28 January 2021